The impact of Dynacor Gold Mines' activities and the well-being of artisanal mining communities are at the heart of our social responsibility awareness. It is important that our actions have a positive economic and social impact on the communities in which we operate. That's why we actively participate in the PX IMPACT® program, which is a market-recognized certification.
Given we make it possible to trace our products, our buyers are willing to pay for this guarantee of traceability and purity in the form of a purchase premium. The artisanal miners benefit via reinvestment of the premium into their communities. The focus is on education, health and social services.
By contributing to the collective well-being and sustainable development of artisanal mining communities, we recognize the value of their work. In this sense, the PX IMPACT® fund already exceeds similar programs in terms of benefits.
At Dynacor, we believe that doing business honestly, transparently, and with respect for the workers is the best quality assurance of our product.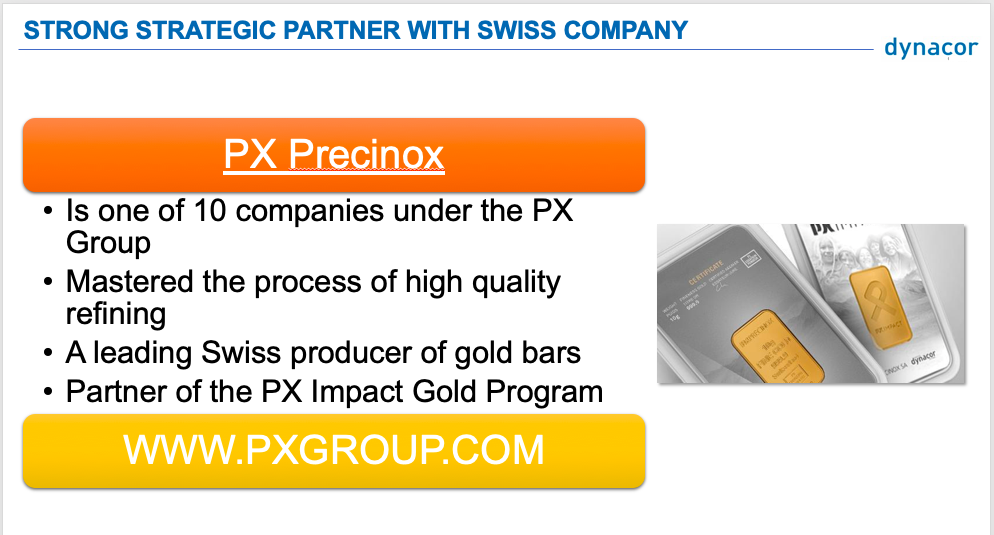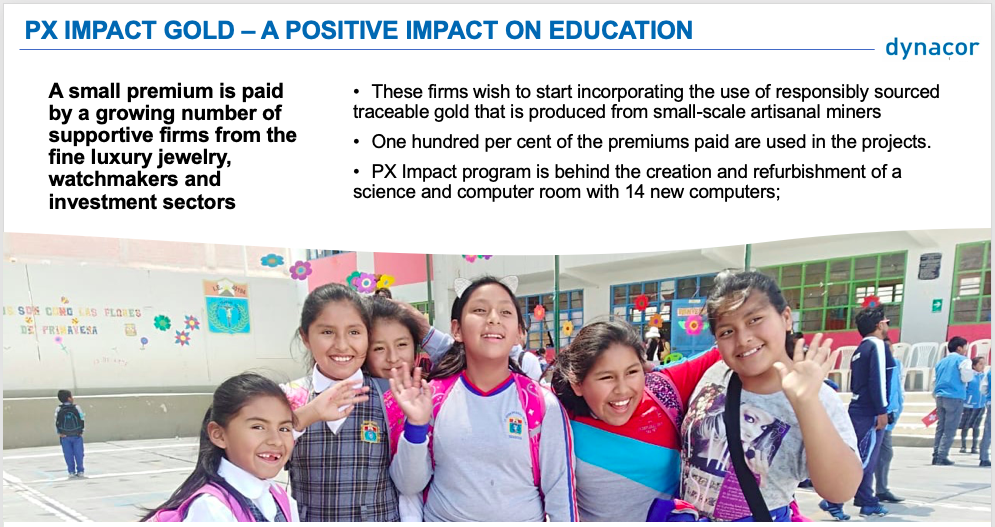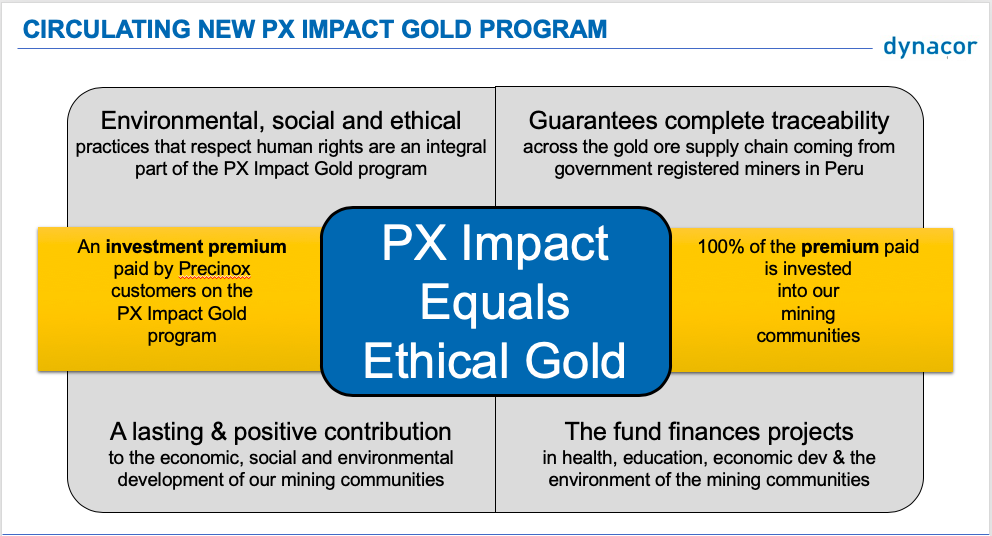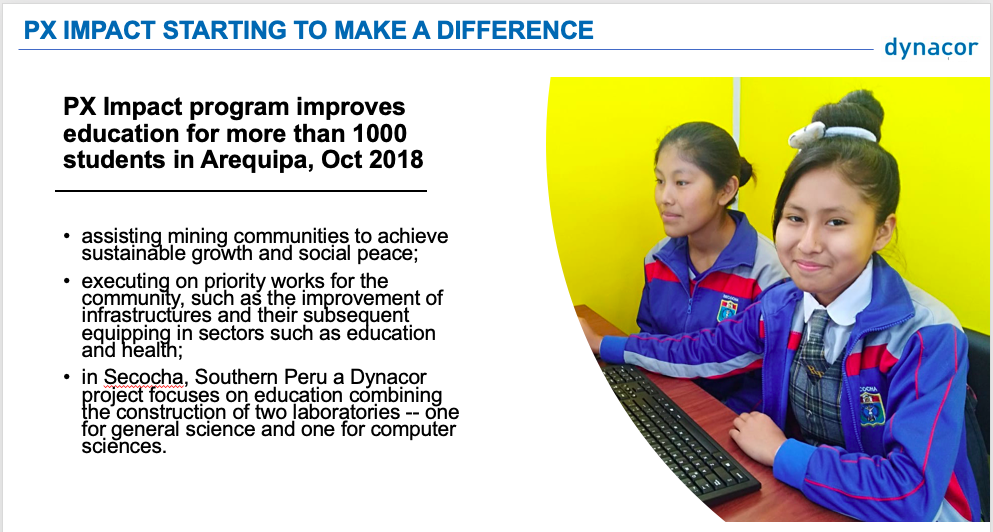 Dynacor Gold Mines is committed to operating its activities with the highest ethical, environmental and social practices, in order to meet or exceed Peruvian and international standards. To achieve this important goal, Dynacor Gold Mines has established four pillars, which impact the decisions we make at every level.
Respecting the environment through the Environmental Management Plan, which dictates how water quality, air pollution and noise are monitored, and how impacts are managed.
Ensuring health & safety through a committee, which oversees company compliance with health and safety standards.
Corporate Social Responsibility
Promoting corporate social responsibility through workshops, community meetings and development programs that help us understand local needs and how best to address them.
Community Development Projects
Pursuing community development projects such as the Tumipampa Community Development Project to boost the living standards of local families, and other corporate social responsibility programs for Peruvian students and universities.
Environment
Dynacor's Environmental Management Plan ensures compliance with Peruvian mining laws. The plan involves the following activities administered by the company's Environmental Management Unit (EMU) located at the Head Office in Lima.
Water quality, air pollution and noise are monitored at specific locations at the Acari gold processing plant. Bi-annual reports are submitted to the regulatory authorities.
Management of the necessary Environmental Impact Assessments (EIA) which are sub-contracted to specialized firms. The EIAs are then submitted to the relevant authorities.
Health & Safety
In 2018, no serious incidents were reported at the Chala gold processing plant. An internal team of employees oversee compliance with all workplace safety and health regulations at the Chala processing plant.
Corporate Social Responsability
Throughout the world, the environmental and social impact of mining has become an important consideration, and the same trend has emerged in Peru. The Government of Peru enacted a series of new mining laws to formalize the artisanal mining sector and has reinforced the obligation for mining companies to consult and obtain the approval of local communities at all the different stages of a mining project. Emphasis has also been laid upon sustainability as measured not simply by the life of a mine and its direct environmental and social impact but also by the promotion and implementation of other sustainable activities in the surrounding communities leading to an improved standard of living and well-being.
Dynacor has implemented a series of CSR activities at  its Tumipampa exploration project and at its ore-processing plant at Chala. These activities include:
Tumipampa
Dynacor has now signed agreements with both the Pachaconas and Pampallacta communities that will allow the Company to pursue the exploration of this very promising property. Dynacor has funded several community driven projects with these two communities including for instance a sowing/knitting project with a group of 20 women from Pampallacta. The company also provides employment and training opportunities to members of the communities on a priority basis. Dynacor has invested in the improvement of local infrastructure such as the road that connects Abancay to Tumipampa via these two communities.
Chala
Dynacor has hired a full time social worker to work with the community in order to identify their needs and wishes. Several workshops have been held and Dynacor intends to have its CSR activities in place as soon as possible. The Company has also co-funded and worked with the municipality of Chala in the construction of a 10 km road connecting Old Chala to New Chala. This road passes directly in front of the Company's  Chala ore-processing plant.